Roofing contractors work on exterior surfaces that seal, waterproof and weatherproof structures. Typically, these professionals also perform gutter, siding, and window installation. Choosing a qualified and experienced contractor when considering re-roofing your home is important. The following tips will help you vet and select the right one for your project.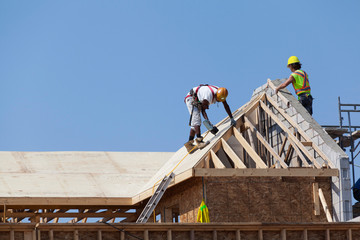 Roofing Contractor is a highly trained and experienced professional who performs a wide range of roof construction work. They understand the best methods to replace and repair roofs, as well as how to ensure that your project is completed on time and within budget. In some countries, roofing contractors are regulated at the state and local levels. Each state has its unique specialty classifications, license requirements, and application processes.
For example, in some state, roofing contractors are required to hold a C-15a License from the Contractors Board. To become licensed, they must provide two years of experience and pass the trade, business and law exams. While many of the qualifications for this job vary across states, roofers share several common traits. These include:
Roofing Contractors install, repair and replace the roofs of buildings. They use various materials, including metal, shingles, and bitumen. During the roofing process, roofers remove debris from the surfaces that will be covered. They also clean and maintain their tools and equipment.
On pitched roofs, they lay and tack strips of roofing felt to the base of the roof, then nail overlapping rows of shingles to cover the surface. They use chalk lines, gauges on shingling hatchets, or lines on shingles to determine the correct overlap distance.
Roofing project managers ensure that workers on low-slope and steep roofs have personal arrest systems, toe boards, and safety nets. They also ensure that workers wear protective gear, such as hand gloves and head helmets, to prevent injuries. They then cover exposed nail heads with roofing cement or caulking to prevent water leakage.
Roofing Contractors need a variety of skills to perform their duties. These include working safely and using equipment and materials appropriately. Typically, new workers are given on-the-job training and education by experienced roofing contractors. This training includes using roof tools, equipment and machines and learning to measure, cut and fit roofing materials.
In some provinces and territories, apprenticeship programs are available for high school students. These programs combine classroom studies with on-the-job training under the supervision of a certified journeyperson. In addition, some states require roofing contractors to have a state license. These licenses give clients confidence in the work that is being done. They also give the contractor legal standing if a client isn't paying for the job.
Experience is a big factor in any trade, but in the roofing industry, it's particularly important. This is because an experienced contractor has already earned their reputation by doing work to a high standard. They know that if they don't do their job properly, a customer won't continue to use them. They also understand that if the product they install needs to be corrected, then it won't perform as expected or last as long. A reputable contractor will update you daily on the progress of their work. They should also inform you about warranty information, payment terms and other details.
Roofing is a complicated process. There are several types of roofs, and different measurements are necessary for everyone. A simple gable roof is fairly easy to measure, but a gambrel or mansard roof requires specific measurements. When measuring for a complex roof, waste becomes an important consideration. Intricate roofs require precise measurements for shingles, which often need to be cut for small spaces and nailed in a row along the roof deck. Because every square foot is different, measurement can be more complex.
Underlayments are another important consideration when determining which type of roofing material is best for your home. Synthetic underlayment is better for your roof. Asphalt-saturated felt is waterproof but is not very light. It will shed water and protect the asphalt shingles from wood decking. It also will increase the fire resistance of your roof.
The roof is a structure that covers the top of a building to protect it from the elements. It can be flat, pitched, vaulted or domed. The type of roof material used depends on the climate where the building is located. Other factors, such as aesthetics and economics, may affect the type of roof used.