If you need to get roofers to repair or install a new roof in your home or business, there are a few things you'll need to consider. These include the job, the materials used to repair or install the roof, and the techniques used. It's important to remember that when you choose roofing contractors, you need to make sure they have a good reputation. This way, you can rest assured that you'll get the best service.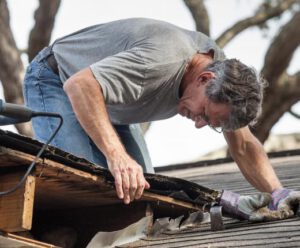 A home's roofing material defines its appearance and helps increase the home's value. Before choosing a material, you need to evaluate its advantages and disadvantages. The choice of roofing material will depend on your specific project, the budget, and your home's climate. Fortunately, there are several materials available.
Wood, concrete, and metal are three of the most common types of roofing. These materials offer an attractive look for your home and can last for decades. Each of these materials is effective in various weather conditions.
Cedar is a popular type of roofing material because of its rustic appeal. When installed properly, cedar shingles will last for decades. These shingles can be painted or stained to give them a quaint, natural look.
Slate is another natural material that makes an excellent roof. Slate is a stone, and it is highly durable. It can be very expensive, though. A roof made of slate is usually very heavy. If you are planning to install a slate roof, you should hire a professional.
Metal roofing is also an ideal material for hot climates. This type of roof is waterproof and won't crack, curl, or break. It is very durable and can be found in shingles resembling tile. However, it is very loud during rainstorms.
Composite shingles are a less expensive alternative to real slate. They are made to resemble natural slate, and they can be a good option for homeowners who don't want to spend money on a real slate. They are more slippery than real slate, though. They can be purchased in several different styles and colors.
Rolling roofing is another common material. It is made of mineral-impregnated material that can be applied with a torch-down method. It is durable and can be applied on sloped roofs, but it isn't recommended for flat roofs.
Clay and concrete tiles are durable, and they are an ideal choice for homes in hot, dry climates. They add texture to a home's exterior and are resistant to harsh weather. The cost of installing these types of roofs is a bit high, but they do provide an elegant, natural look.
Fiberglass shingles are popular in humid climates. They are also water resistant, but they are more likely to get a bit sticky in the summer.
Slate roofing is often used in luxury homes. It is extremely heavy, but it is one of the most durable types of roofing. Purchasing a real slate is a big investment, and it may not be the right choice for your home. It can be very difficult to find a professional who can install it.
When you are selecting a material for your home, it is important to consider the costs, installation, and maintenance of each. It is also important to choose a material that will match your home's style. You should also discuss the different options with your local roofing contractor.
Roofing techniques are important to anyone who wants to install a new roof. They are a necessary part of the process, but they can also be dangerous if not used properly. Choosing the right tools is a great way to ensure that your roof is installed correctly. However, not all equipment is created equal. The right equipment will increase the efficiency of your roofing team and help them produce a beautiful finished product.
For example, a proper nailing pattern is the best way to distribute forces evenly across your roof. This is especially true if you have a metal roof that is susceptible to wind. This will make your roof more durable and keep water out.