Roofers replace, repair, and install roofs on buildings to keep them from leaking. Roofers use various materials, including shingles, metal, and bitumen.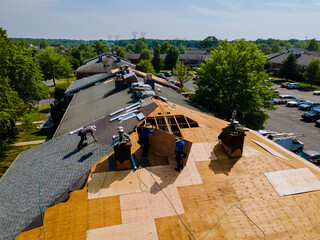 Roofing is physically demanding because it requires climbing, bending, and kneeling. However, it is rewarding and often pays well. Those interested in this career can earn an apprenticeship or a relevant license to work as a roofer.
Roofers are skilled at installing roofing materials and ensuring their proper alignment to ensure a smooth and durable roof. They take detailed measurements of a client's roof to calculate the right amount of materials, then lay down layers of shingles, tiles, or other materials.
They also install vapor barriers and insulation to create a more waterproof seal. They may install ridge vents to help keep air circulation in the attic to prevent condensation and ice dams from forming.
They also clean up after work is done to remove shingle debris and leave the site as neat and tidy as possible. They also inspect the roof for damage and recommend repairs or replacement if necessary.
Roofers are responsible for repairing, replacing and even building new roofs. They may work on a wide variety of roof types and materials, including metal, rubber, wood or tiles.
They must have a good understanding of the physics behind a properly functioning roof. This includes assessing the type of roofing material, the weather conditions and the design of the building.
For example, a good quality roof with the correct insulation can keep your house cool in the summer and warm in the winter. A well insulated roof is also more energy efficient, which will save you money on your utility bills.
The price of a roof repair can vary depending on the size, the time of year and the location of your home. The best way to get an estimate is to ask your local contractor for a free quote. They will be able to provide you with more information about the cost of a repair as well as a number of other services that you may need.
Roofers are responsible for maintaining the structural integrity of a home. They do this by inspecting and repairing any issues that may arise.
One common roofing problem is cracked or missing shingles that can allow water to enter the home. This can lead to extensive water damage if not repaired immediately.
Regular maintenance of a roof is important because it extends the life of the roof. It also saves homeowners money in the long run by preventing expensive repairs later on.
In addition to extending the life of a roof, maintenance can also improve its energy efficiency. This is due to the fact that a properly maintained roof allows air to circulate throughout the space, which keeps temperatures consistent and helps reduce utility bills.
As part of the maintenance process, roofers should clean and clear any debris that is accumulating on the roof. They should also perform insulation inspections to ensure that the roof is retaining heat and not losing it through leaks.
Roofers replace, repair, and install the roofs of buildings, using a variety of materials, including shingles, bitumen, and metal. Properly installed roofs protect buildings from water damage and keep interiors dry.
Roofing work is physically demanding because it involves heavy lifting, climbing, bending, and kneeling, often in hot weather. Workers may be required to work overtime during busier summer months.
Wearing appropriate clothing and safety equipment helps reduce the risk of injuries, including burns from hot bitumen. Long-sleeve shirts and pants help protect the skin from cuts or scrapes, while thick-soled shoes provide grip.
Roofing jobs require precise measurements of the structure of buildings and clients' roofs. This includes measuring the size and shape of vents, gutters, chimneys, walls, and other rooftop features. It also requires accurate spatial perception to place vapor barriers, insulation, and other materials around these elements.
A roofer is a skilled tradesperson who specializes in installing, repairing, and maintaining roofs on buildings. They work with a variety of roofing materials such as asphalt shingles, metal panels, tiles, or flat roofing systems.
Roofers typically start by preparing the roof surface by removing old roofing materials and repairing any damage to the underlying structure. They then install new roofing materials, working carefully to ensure that the roof is waterproof and properly ventilated. Roofers may also install insulation, gutters, and other features to improve the functionality and durability of the roof.